Über das Webinar
Accessibility ist in Deutschland eigentlich klar geregelt. Eigentlich. Um die Anforderungen der Web Accessibility Directive oder des BITV 2.0 zu erfüllen, müssten Hochschulen eigentlich ihre Bemühungen verstärken und Fragen des Zugangs zu digitalen Kursinhalten angehen.
Gerade die Corona-Krise hat das Thema Chancengleichheit beim Thema Zugänglichkeit zu digitalen Inhalten verschärft. Nicht nur im Web. Barrieren beim Zugang zu den Dateien digitaler Seminare, die in das LMS hochgeladen werden, können unüberwindbar werden und erfordern eine skalierbare Contentstrategie.
Ein Problem: Das Thema Barrierefreiheit findet sich keinesfalls prominent auf den Agenden der Hochschulen, Experten sprechen sogar vom sogenannten "Ableismus" im Hochschulsektor. Barrierefreiheit in der digitalen Lehre geht an den Unis meist nicht über einzelne Projekte hinaus. Hier spielt nicht nur der Föderalismus in Deutschland eine Rolle. Zu viel Fokus liegt im oft kurzsichtigen "Nachteilsausgleich".
Accessibility für alle als breit gefasster Ansatz müsste hingegen in das Mindset der Entscheider gelangen. Dieses Webinar soll einerseits gegenwärtige Herausforderungen beleuchten und zum anderen ein Werkzeug vorstellen, welches manche Hochschulen in Europa im Einsatz haben, um diesen Herausforderungen zu begegnen.
Für wen ist dieses Webinar gedacht?
Strategische Führungskräfte aus der gesamten Institution
Hochschulleitungen
IT-Leiter
Fachleute für Barrierefreiheit und Inklusion in der Hochschullehre
Dates
Be ready to chat to discuss the questions you have about migrating to SaaS. This is more than just a webinar! Feel free to interact and ask your questions.
Dates 2 half width
Be ready to chat to discuss the questions you have about migrating to SaaS. This is more than just a webinar! Feel free to interact and ask your questions.
Referenten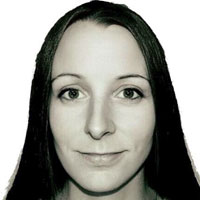 Annabell Busch
Senior Solutions Engineer
Blackboard

Annabell Busch ist seit Anfang 2013 Solutions Engineer bei Blackboard. In dieser Rolle steht sie KundInnen beim Thema Digitalisierung beratend zur Seite. Hier geht es einerseits um die Vorbereitung der Implementierung geeigneter Lösungen in die existierenden Infrastrukturen, andererseits um die Berücksichtigung bestehender pädagogischer und strategischer Herausforderungen.

Von Wien aus deckt sie Frankreich, Deutschland, die Schweiz, Österreich und Teile Afrikas ab und befasst sich mit einer Vielzahl von Themen im Hochschul- und Weiterbildungssektor. Sie kombiniert funktionales Wissen über Blackboard- und andere IT-Lösungen mit pädagogischem Fachwissen, das sie in den letzten beiden Jahrzehnten in diesem Bereich erworben hat, und hat auf diese Weise viele Kunden in Europa erfolgreich bei ihrer digitalen Transformation begleitet.

Zuvor war Annabell Busch für die Universität Wien bereits an der Einführung von E-Learning im Jahre 2004 beteiligt und dort fast 10 Jahre in unterschiedlichen Rollen für die Koordination des E-Learning-Bereichs verantwortlich. Die strategische Planung der Weiterentwicklung der E-Learning-Systeme sowie die Leitung nationaler und internationaler Arbeitsgruppen, Projekte und Kooperationen mit anderen Universitäten zählten dabei zu ihren Hauptanliegen.

Annabell Busch hält einen Master-Abschluss in Germanistik, Romanistik sowie Kultur- und Medienwissenschaften der Universität Wien und einen Master der Sorbonne Paris 4, und arbeitete wissenschafts- und kulturpublizistisch.
Was Sie erfahren?
Die positiven Auswirkungen, die das Tool Blackboard Ally auf die Situation von Lehrenden und Studierenden in der Hochschullehre haben kann.
Derzeitige Themen und Trends zum Thema Barrierefreiheit , die Situation an deutschen Hochschulen, Chancen, Herausforderungen und Risiken.
Unterstützung von Inklusion bei der digitalen Lehre durch Blackboard Ally.
"
Praesent lacus sapien, commodo id congue sed, cursus eu leo. Donec hendrerit tortor ut viverra lacinia. Proin hendrerit erat nulla. Nulla id dictum nulla, sit amet auctor magna. Vestibulum congue lectus in orci viverra condimentum."
Read more
Jane Doe, M.A.
eLearning Manager
Monument University
"
Praesent lacus sapien, commodo id congue sed, cursus eu leo. Donec hendrerit tortor ut viverra lacinia. Proin hendrerit erat nulla. Nulla id dictum nulla, sit amet auctor magna. Vestibulum congue lectus in orci viverra condimentum."
Read more Jane Doe, M.A.
eLearning Manager
Monument University