Upcoming Webinar
Wednesday 27th October, 2021 | 1:00pm – 1:45pm AEDT
Continuous Course Improvement Using Business Intelligence from your Curriculum Management System
Presented by: Natalie Simper, PhD Candidate, Curriculum Development Officer, Bond University
One of the primary advantages of aggregating all of the often-disparate sources of a university's curricular data into one digitised curriculum management system is the powerful database that is enabled. Data from previously unrelated systems can now be accessed to paint a clear picture of constructive alignment (or lack thereof) in individual courses and programs.

Pairing deep business intelligence with your curriculum management system, you can query learning outcomes' relationship to overall graduate attributes, as well as the structure and function of assessments can be queried at all levels of the curricula. This enables a powerful suite of enquiries addressing such course effectiveness dimensions as:
Are all learning outcomes assessed adequately across a course or program?
Are some over- or under-assessed?
What is the mix of assessment types across a program of study?
How well does the measurement of course learning outcomes align with program outcomes or graduate attributes?
Presenter
Natalie Simper
PhD Candidate, Curriculum Development Officer
Bond University

Natalie has a keen interest on constructive alignment and assessment in higher education, with research publications spanning authentic assessment of cognitive and transferable skills, academic assessment literacy, thresholds and standards. In her professional role at Bond University, she supports the development of an effective, high-quality curriculum, managed across all programs to maintain assurance of learning, quality and compliance. Natalie is responsible for administering the university curriculum management system, servicing and supporting learning and teaching quality assurance activities and the provision of associated training.
Moderator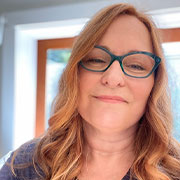 Jacqueline Bates
Client Experience Manager,
Global Client Experience, Blackboard

Jacqueline Bates is a Senior Digital Leader with over 30 years of professional and strategic digital experience in Australia and internationally. She has worked across multiple industry sectors including Higher Education, VET, Government and Corporate. Jacqueline is an accomplished driver of innovation and digital transformation, and has a passion for eLearning that extends throughout her career as a Learning Designer, Developer and Online Facilitator.