eLearning Forum Asia 2020
Join us virtually! We will be online at the following times.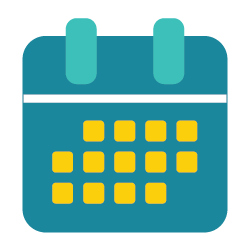 12pm to 4pm (SGT)
7 - 8 December 2020
Thank you everyone for participating in our photo booth contest. We have the winners!
If you're the owners of these photos, please email us at Asia@blackboard.com to claim your prizes.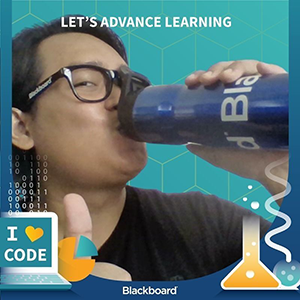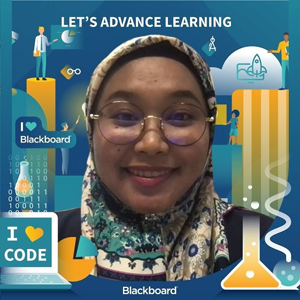 About Blackboard

Blackboard is a leading EdTech company, serving higher education, K-12, business and government clients worldwide. We connect a deep understanding of education with the power of technology to continuously push the boundaries of learning. Our mission is to advance learning together with the world's education community so that all learners, educators, and institutions can realise their goals today and prepare for tomorrow.

What's Happening?
(Note: You need to register for eLFA to attend this breakout session)

8 Dec » 3.10pm to 3.25pm
As educators, we invest in designing and facilitating learning processes we believe are effective for our students. But how do we know they are effective? Analysing data generated through our LMS and extended systems can offer educators powerful insights into what is effective and allow for more targeted interventions that can positively influence student retention, performance and achievement. However, teachers' professional learning needs are often overlooked in this space. Research has found that educators are more likely to invest time in Learning Analytics if they clearly understand their relevance and value and are supported through professional learning that connects with their goals and practices.
Speaker: Dr. Caroline Steel, PhD, Senior Strategic Consultant, Blackboard

Insights to Empower and Take Action
7 Dec » 1pm to 1.15pm
In this session we take a look at how you can use Ultra to gain visiblity over your students engagement and provide support to those in need.
Speaker: Nick Benwell, Senior Solutions Engineer, Blackboard
How to Maintain Engagement in a Virtual Class Environment
7 Dec » 2.05pm to 2.20pm
8 Dec » 1.50pm to 2.05pm
Teaching in an online environment is challenging with all the technology. Join us for this session to take a look at how easy it is to engage with your users in Blackboard Collaborate.
Speaker: Ethan Dengate, Solutions Engineer, Blackboard
Transitioning from Remote Teaching to Hybrid Teaching in the Post-Pandemic
7 Dec » 3.40pm to 3.55pm
8 Dec » 1.50pm to 2.05pm
Hybrid teaching has been widely practiced around the globe for over ten years, and numerous studies have been done on its effectiveness. Through remote teaching these past months, teachers have gained rich experience in online delivery, grasped technical and digital skills, and updated their instruction repository. This is the perfect opportunity for teachers to be prepared to transition to hybrid teaching when schools re-open and enjoy this new way of teaching. This session will share the what, why, how and best practices in hybrid teaching.
Speaker: Aaron Wang, Global Client Experience, Blackboard