About the Program
The Exploring Learn Ultra  program is comprised of two 90-minute sessions, where we will explore the main features and functionalities within Base Navigation and the Learn Ultra Course View. Whether you are transitioning to Learn Ultra, or just looking to deepen your understanding, this program will provide you with the answers you need. You will have direct access to our product experts and share with other institutions moving along a similar path.
Session Topics
Session 1 - Base Navigation and 3rd Party Tools:
Learn Ultra overview and components
Base Navigation: Institution Page, URL and role branding, Activity Stream, Calendar, Messages, Targeted Notifications.
3rd Party Tools and Partner integration
Session 2 - Learn Ultra Course View:
Creating course content
Communication in an Ultra course: Discussions, Conversations, Messages, Notifications
Grading and assessment workflows
Dates 2 half width
Be ready to chat to discuss the questions you have about migrating to SaaS. This is more than just a webinar! Feel free to interact and ask your questions.
Speakers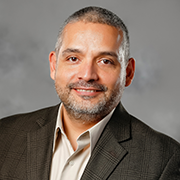 Edgar Gonzalez
Edgar has over 17 years of experience in the development and implementation of online education fulfilling different roles that ranged from LMS Administrator to Director of Online Education. This experience has given Edgar the opportunity to become a passionate sponsor of educational technology to improve teaching and learning in higher education. As Senior Client Experience Manager with Blackboard, Edgar is focused on improving the client experience while empowering institutions to meet their goals around student success and faculty development.